Thorpe Lea Fishery is a premier day ticket water set in 18 acres close to the M25 and M3 motorways.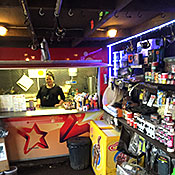 Thorpe lea is stocked with 2000 plus carp to 37lb 7oz with 53 different 30's out alone last year (2019).
We have already had 11 new 30's to add to that list this year so far up to August 2020.
» Click Here to View Swim Availability
Pop ups and wafters are your best approach on the lake either in a solid bag or Ronnie rig helicopter system works well for fishing into the weed but keep your baits small 12-14mm.
The lake bed is gravel with weed patches so if you know how to fish the weed, fish in it! as thats where a lot of the carp like to feed. Gravel spots also work very well.
If your using a spod mix, crush your boilies leaving just a few whole, mixed in with some pellet and a liquid of your choice.
If you are after big hits on the fishery, the pegs that reach the gravel bar across the middle of the lake are your best bet. Pegs behind the islands produce lots of fish too but you are much more likely to have some of the bigger ones rather than the quantity, so don't be put off fishing behind an island.
Transportation from the car park to the swims is provided free of charge for the disabled, with a small charge made for others if needed - available only if weather/ground conditions permit.
Special Notes - Please Read!
Fishery Rules
We work hard to maintain a safe and secure environment for all our staff and visiting anglers.
Please respect and adhere to all fishery rules or we will ask you to leave. Thank you.
Anglers' Visitors
Strictly no visitors allowed on site.
One guest per angler will be allowed if they are present when the angler purchases a ticket.
Fish Handling & Tackle Sanitation
All Unhooking Mats, Weigh Slings and Landing Nets must be bio tank dipped upon arrival and departure from our fishery.
Tackle and Bait Requirements
No maggots can be used on the lake.
All anglers must have a carp care kit.
Sorry no Surface and Zig fishing until further notice.
Swim Booking All swims must be pre-booked using this link.
Sorry, we cannot allocate any swim that is not booked in advance.
Bait BoatsAbsolutely no bait boats can be used on the lake, this includes all castable electronic smart fish finders.
MatchesFor the time being, we cannot facilitate any fishing matches to be held at the venue.
No Wading please!
No litter will be tolerated.
You will be asked to leave if there is litter in, or around, your swim.
Only marked pegs may be fished, no swim building or clearing is permitted.
All fish caught must be returned to the water as soon as possible.
No bait boats or Deeper Pro and all other castable electronic devices.
No braided main line can be used.
No unattended rods.
BARBED hooks only - you will be checked!
No particles are permitted

Carp Pellets and Boilies only please.

All anglers must use a large padded unhooking mat or carp cradle and a landing net of no less than 42 inches.
A height barrier is in place at this fishery. Please take care.
Note:
In order to keep our fish in top condition regular checks will be made to hooks, rigs and equipment being used, if you are unsure please ask the bailiff. Please make sure your landing net is a suitable size for the fish you wish to catch.